Minna san, Ohayo~
Chidori is back again. With a new story.
Hari ni,Chidori cuti dari kelas mengaji. So, Chidori blh update blog yang dah mula berhabuk. Jadual entry post Chidori bnyk kena kacau lah. Kesian Chidori.
Anyway, this week, giliran Sebastian Michealis untuk bersihkan blog. Sebastian, you know what to do. Clean this blog at once.


How cute can one person be~*Fall in love with the butler*
Clean it right away, please.


Do you have to do it this way Sebastian?! You really are an akuma aren't you?


Eeek~
Don't touch me with those hand. They're so filthy.


Sebastian, you really make a mess this time. Is this really cleaning up?
Anyway, pada hari Rabu lepas, cuaca hujan dengan lebatnya. Air mula naik kat sekitar jalan2 bandar. Hari tu, memang adventure habis Chidori pergi kelas mengaji.
Mula-mula, waktu balik dari makan breakfast, Chidori hampir2 nak terjatuh. And, masa tu jugaklah sandal Chidori yang warna pink terputus.
Sandal tu betrayed tuan dia!
Sampainya hati~ Bukan ke sandal tu sepatutnya setia? Chu~
Lepas tu, Chidori terpaksa pinjam sandal Okka san. Balik aja dari mengaji,sandal tu pulak putus. At the end, Chidori cabut sandal tu and jalan aja balik ke tempat kerja Okka san. Huhu~
Dasyat. Tak pernah dibuat orang. Jalan pegang payung sambil jinjit sandal. Macam kat tepi pantai pulak. Hihi~
So balik aja rumah, Chidori terus amik laptop kat atas meja and bukak Kuroshitsuji Musical. Akhirnya, Chidori merenung-renung muka Yuya Matsushita yang drop dead kawaii~
Semua sakit hari Chidori pasal sandal and all semuanya hilang. Bila Yuya sebut "Yes, My Lord" dengan berlagu, Chidori pun jadi berlagu jugak.
So, Chidori akan kongsi, the musical pics. But Ciel and Sebastian..is mine!


Sebelah kanan, that is Sebastian Michealis ialah, the one and only, Yuya Matsushita.
Sebalah kiri, ialah the master, Ciel Phantomhive ialah, Sakamoto Shougo.
Such kawaii~
I'm so jelous now~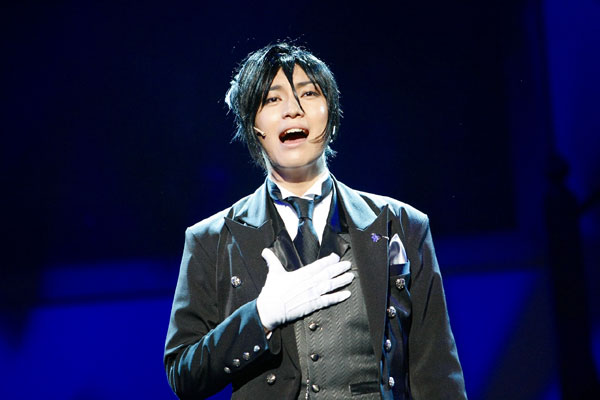 Ka-wa-iiiiii!!
Chidori will always go "Dump Dump" when I see this pic.
And also,the person who plays as Grell, is so good. How can I put this? Grell himself is awesome, but this person is even better~
He is so..like Grell san~
The way he try to seduce Sebastian is so..*laugh*funny? Or just crazy?


I think his name is Uehara Takuya san.


So, that's all from me this time.
Until we meet again, Minna san~