Ohayo Minna!
Chidori is back again!
Lama betul tak update blog. Dah berhabuk blog ni..Ish-ish. *Ambil penyapu and mula kemas Daia No Hana*
Sebenarnya dah lama Chidori fikir nak masukkan entry ni, tapi baru sekarang ada masa terluang. Walaupun cuti sekolah tapi bukan 24 jam depan computer. Owh no!no!
Walaupun tajuk entry kali ni berkenaan anime yang tengah hot *panasnya* diperkatakan by all anime fans, picnya berlainan.
Tapi pic anime ni also salah satu anime yang tengah hot. It's Fullmetal Alchgimest Brotherhood! My favourite couple!
Roy Mustang and Riza Hawkeye!
Owh! Kawaii desu! XD!
About Inuyasha pula, Chidori memang tak pernah tengok anime tu ataupun baca manga dia. Tapi semalam, Chidori cuba tengok anime tu and komennya ialah SUGGOI!!!
Memang best tahap dewa! Walaupun Chidori baru tebgok satu episode! *clap hands*
So, diumumkan, Chidori dah jatuh cinta pada Inuyasha pulak terutamanya telinga dia yang comel! Comel! Comel! Comel!
Hihi! And ada a few pic yang Chidori rasa comel sangat!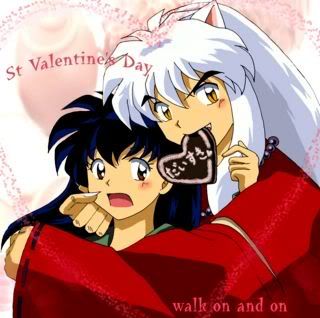 So sebab ada yang mungkin tak kenal mana satu characternya biarlah Chidori kenalkan.
Si rambut putih itulah Inuyasha and rambut hitam tu Kogame.
Kenapa Inuyasha peluk Kogame?! Berani betul!!*cemburu berapi-api*




So that's all. From now on, Chidori umumkan Inuyasha will be in my list of all the cute guys that I know! And Inuyasha and Kogame will be in my list of fav couple! Owh Yeah!
Opening theme song Inuyasha Thee Final Act Kimi ga Inai Mirai by Do As Infinity is also the best! Kimi ga Inai Mirai means 'a future without you..'
Watch it at Youtube. *jenis malas nak tunggu lama-lama upload video hehe-
http://www.youtube.com/watch?v=nh8IU2eNyDk
Chidori suka masa time chorous when it say 'a future without you is a meaningless future'. So sweet! Go Inuyasha! Fighto and kalahkan Naraku! Hehe!